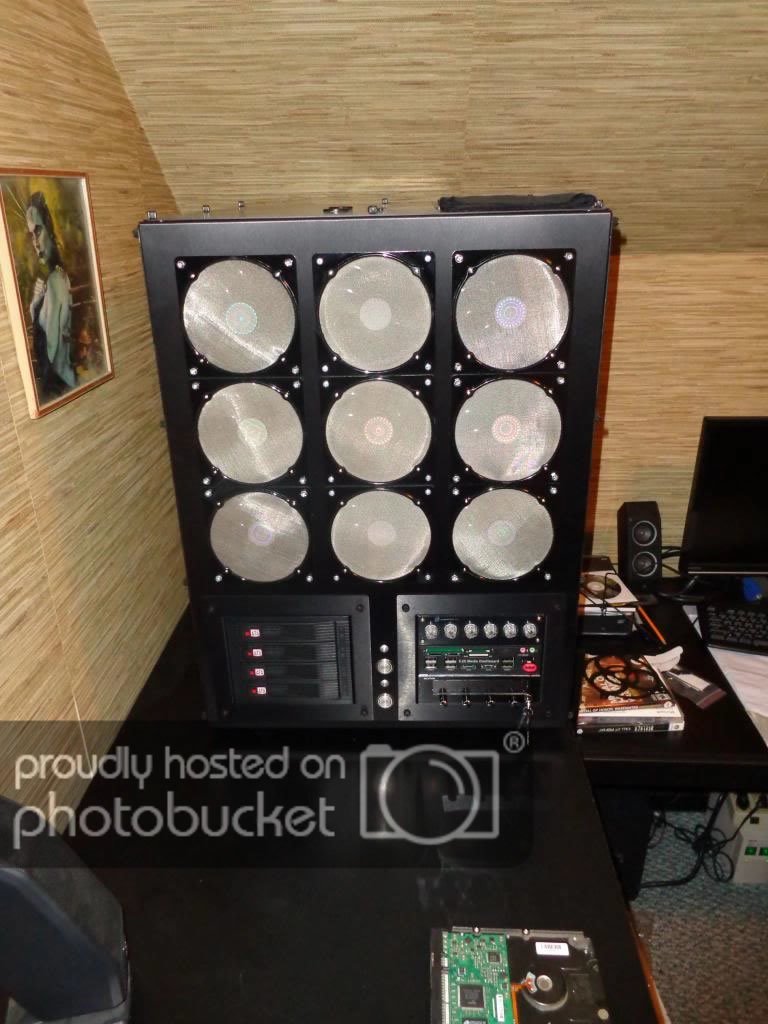 Mountain Mods Ascension (Trinity, SR-2 MB Tray, Anodized)
Asus P9x79 Pro
Intel 3930K [email protected] (I got really lucky with this CPU. Can seriously undervolt some high overclocks!) [email protected]
32gb G.Skill 2133MHz
xFx HD6990 (Still kickin' 950/1450 @ stock voltage!) Got rid of the 6970 Trifire. Looking for another xFx 6990 with an EK block for cheap.
xFx Pro1250W Modular Power Supply
64gb Corsair P3-64 SSD
2x OCZ Vertex 3 60gb in RAID 0 (Idle time garbage collection seems to work, but still waiting on TRIM on RAID for x79). Oh yeah, 1100mbps in ATTO.
4x WD 400gb SATA2 (RAID0 & RAID1) in Kingwin 4in3 5.25″ Hot-swap Drive Bay
Watercooling..
4x Swiftech DCP655-B
EK D5 Dual Top 2-Loops Pump Top w/60mm Reservoirs + multioption bottoms for caps
EK FC-6990 (Nickel/Plexi)
EK Supreme HF (Nickel/Plexi)
Feser Clear/UV Blue 1/2″ID-3/4OD" tubing
Feser & Bitspower Compression fittings, 45s, and 90s
3x Koolance Extreme Flow QDCs (2 on CPU loop, 1 on GPU)
2x Koolance High Flow QDCs (2 on GPU loop)
1x XSPC RX480 Radiator
2x XSPC RX360 Radiators
1x XSPC RX240 Radiator
27x Coolermaster R4-C2R-20AC-GP 2000rpm 69cfm 19db 120mm fans (push/pull on triples and quad) running all at about 1400rpm
10x Fan shrouds (All on the push side of the Triples and Quad)
Sunbeam Rheobus 6x 30W/ch Fan controller
Scythe Kaze Master Fan controller (only used for monitoring air/coolant temps and pump speeds)