Welcome to DazMode's Monthly Customer Appreciation Draw!
Every month we randomly select a winner for a gift from DazMode Store.
All DazMode customers are automatically entered for our draw with every order paid and shipped. Multiple orders increase your chances to win Grand Prize, but combined orders will count as a single order.
Lucky order number is drawn randomly within first week of following month. Winner must accept prize within 7 days or it will be re-drawn to other customer.
This contest is open for all customers of DazMode. No strings attached – shipping is included, although we won't deal with any of your local tax or import charges.
Thank you for supporting DazMode!
Double Spin is Back!
For March Prize
We selected GoPro Hero3+ Silver Edition!
+
customers who will support us during
"March Break Closure" and order between March 11 and 21 will get additional 5% order discount and earn double entry for GoPro draw.

The HERO3+ Silver Edition is 20% smaller and 15% lighter than previous models and is compatible with all GoPro mounts and accessories—making it the most mountable, wearable and versatile Silver Edition GoPro yet.
Boasting 2x the performance of its predecessor, the HERO3+ Silver Edition captures high-quality 1080p60 and 720p120 video and offers dramatically improved low-light performance.
Stunning video quality has made GoPro the world's best-selling camera company, and the HERO3+ Silver Edition continues this tradition. High-resolution, high-frame rate 1080p60, 960p60 and 720p120 video modes result in professional quality footage and allow for liquid-smooth slow motion playback.
The HERO3+ Silver Edition captures gorgeous 10MP stills at up to 10 frames per second—perfect for fast-action sequences. Time Lapse mode lets you capture a series of photos at 0.5, 1, 2, 5, 10, 30 or 60 second intervals.
Featuring a 30% increase in battery life, you can go longer and capture more with the HERO3+ Silver Edition.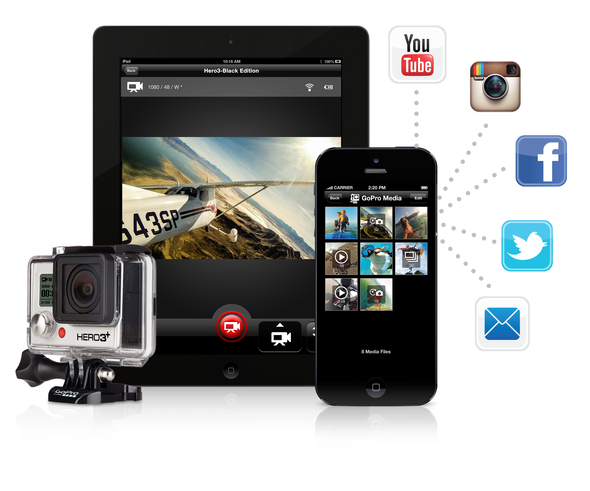 The GoPro App makes it easy to control your camera, and lets you do more with your GoPro content than ever before. Get full remote control of all camera functions. See what your camera sees with live preview for easy shot-framing. View photos and play back videos, then share your favorites via email, text, Instagram™, Facebook® and more.1
Speedier Wi-Fi delivers 4x faster video preview and faster photo and video sharing with the GoPro App than ever before. Also enjoy enhanced connectivity to the Wi-Fi Remote (sold separately), which enables control of up to 50 cameras from distances of up to 600'/180m.